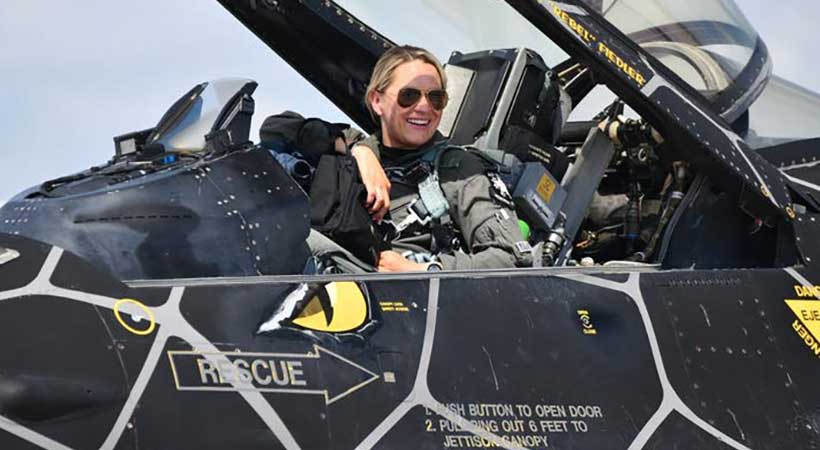 Meet F-16 Pilot Capt Aimee 'Rebel' Fiedler
Capt Aimee "Rebel" Fiedler is the pilot and commander of the Air Force F-16 Viper Demo Team. She'll show you what the F-16 can really do during its full capabilities demonstration at the 2023 Augusta Air Show.
Growing up from a young age, Rebel always wanted to be a pilot and her dream was to fly into outer space. U.S. military pilots typically have an advantage when it comes to astronaut selection but her career led her in another direction.
Rebel graduated from Seguin High School near where she grew up in her hometown of New Braunfels, Texas. She went on to college at South Dakota State University, graduating in 2013 with a Bachelor of Science in aviation education in 2013, but did not attend a service academy or participate in an ROTC.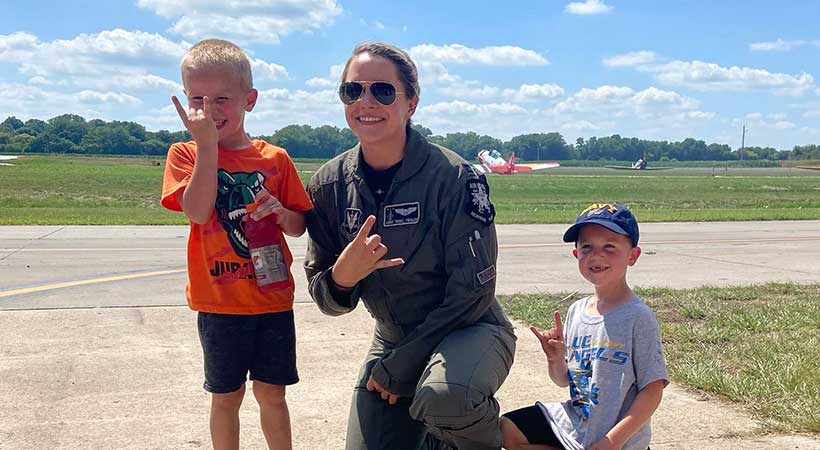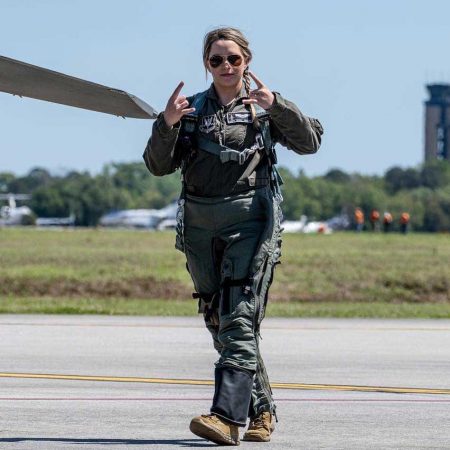 "Military aviation (is something) I'd always been interested in but I thought I had missed the mark by not attending a service academy or by completing an ROTC program," Rebel said during a recent media interview. "It wasn't until way later that I found out I could go to officers school, so once I found that out, it was an easy decision for me."
In July 2016, Rebel attended Air Force Officer Training School, graduating just months later as a pilot in the United States Air Force. Following OTS, she went on to pilot Training and then specific training in the F-16 at Holloman Air Force Base in New Mexico. After finishing all her training, Rebel received her first assignment overseas at Kunsan Air Base in South Korea in 2019 where she served for a two-year tour. Afterward she returned stateside and assigned to the 55th Fighter Squadron at Shaw Air Force Base in South Carolina as a flight lead. In March of this year, the Viper Demo team announced that Rebel was selected to be commander and demonstration pilot of the team.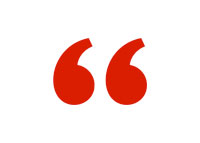 "I love flying and I realized I could give back and serve my country while doing what I love, and I expect others to give back and others to serve, so I should hold myself to that same standard," she said. "I got kind of the best of both worlds."
In a recent media interview, Rebel describes her career of being an F-16 pilot in the Air Force as the best of both worlds.
"I love flying and I realized I could give back and serve my country while doing what I love, and I expect others to give back and others to serve, so I should hold myself to that same standard," she said. "I got kind of the best of both worlds."
When asked what her advice would be for anyone looking to become a pilot, Rebel said this:
"You have to make sure that you're qualified for it, first and foremost, so from a young age you can work on that, play sports, make good grades, and stay qualified," she said. "If you're qualified for the job and you can do it, the jet's not going to care, it's not going to discriminate on gender, race, age, anything like that so making sure that you're qualified for the job… and then, if you are qualified, really, people aren't going to tell you 'no' if you possess the work ethic and the talent to do this job."